Today at Stork Club, we're thrilled to announce that our proprietary Birth Doula program is available under commercial insurance coverage across the US. Stork Club is the first provider in the US to offer managed birth doula care under employer-sponsored health plans. A study, currently under peer review in a leading academic journal, indicates that Stork Club doula care was associated with a 45% reduction in unnecessary c-sections and a 58% reduction in preterm births compared to national averages. The program comes as the country grapples with a maternal health and equity crisis: maternal mortality rates are rising, especially among birthing people of the BIPOC community.
Birth doulas improve maternal outcomes. Doulas are trained non-clinical birth companions who provide continuous emotional, physical, and informational support throughout a person's preparation for birth, during labor, and postpartum. Research demonstrates that doula services are associated with better birth outcomes, such as lower rates of cesarean sections, shorter duration of labor, fewer instances of instrument-assisted birth, fewer babies born underweight, better Apgar scores, and more breastfeeding.
Health plans have not covered doulas. Recognized as a first-line, high-impact solution, doula care is being implemented in many states under Medicaid. However, until now, individuals covered by employer-sponsored health plans were left out: finding, vetting, and paying for doula services out of pocket was their only choice.
Stork Club offers the first managed doula program integrated into employer-sponsored health plans. With Stork Club, for the first time in the US, birthing persons now can have access to a vetted network of birth doulas, a comprehensive clinically designed package of services that includes messaging, virtual and onsite visits at home, and in the labor room. All care coordination and doula matching are available through the Stork Club digital platform. Importantly, Stork Club's doula network includes doulas with diverse identities and lived experiences, enabling better support for the varying needs of pregnant individuals.
One mother, two births, two different stories
To provide a clearer picture of the impact of Stork Club's doula program, here's the story of a mother who experienced two different births: one without a doula and one with doula care.
Lisa's first pregnancy was not easy. Her partner supported her, but she didn't know what to expect from the birth. It was a distressing experience for both of them. During labor, Lisa experienced severe pain and didn't know any pain management techniques, so she was administered an epidural. Quickly after, she developed a fever and was put on antibiotics. She was worried about the side effects of the epidural, and although she expressed her concerns to her healthcare provider, she didn't feel heard.
In contrast, let's take a look at Lisa's second pregnancy and birth experience, this time with the Stork Club Birth Doula care.
1. During her pregnancy, the Stork Club care team walked her through the doula program and matching process.
2. Stork Club helped Lisa match with primary and backup doulas of her choice from a pool of experienced doulas vetted by the Stork Club care team.
3. Lisa and her doula created a birth plan that aligned with her values and preferences. They discussed what to expect, so Lisa felt prepared and supported throughout the most important journey of her life.
4. During labor, the doula helped Lisa manage her pain with breathing techniques, advocated for her concerns to be addressed, and provided emotional support.
5. After the birth, Lisa received continued support from her doula: coaching and support on infant feeding, emotional and physical recovery from childbirth, infant soothing, and coping skills for new parents.
At the end of the journey, Lisa felt much better for herself and the baby relative to her first pregnancy. Here is what she shared about her experience:
"I went into it too blind on my first pregnancy and worked hard the second time around to be more informed. Everything went exactly as I wanted this time around. I learned a lot more from my doula. For example, other pain management was available, and delayed cord clamping could be helpful for my baby. Being able to breathe through the contractions and find other methods of combating pain was so important. I tell everybody they need a doula, no matter what kind of birth they have. I think it's just so important to have that support because they come with this wealth of knowledge, and are good mediators. My second pregnancy and birth went so much better for me because of my doula support. Everything I could have hoped for." — Lisa, Stork Club Doula care user
The difference between Lisa's two births highlights how much Stork Club's Birth Doula program can impact the birthing experience.
Study indicates significantly better clinical outcomes
Stork Club believes it can help save lives and significantly reduce overall maternity care costs by providing evidence-based and culturally-tailored care. While there is a consistently growing body of evidence showing how doula care is associated with better perinatal outcomes at lower maternity costs and improved birthing experience and birth-related outcomes for people of color in underserved communities, Stork Club has submitted their own study, "Improving employee perinatal outcomes via Stork Club Doula Care" that is undergoing peer review at the Journal of Occupational and Environmental Medicine (JOEM).
Based on the study's results, birthing persons who used Stork Club Birth Doula care experienced 45% fewer Cesarean births and 58% fewer preterm births (vs. US national averages).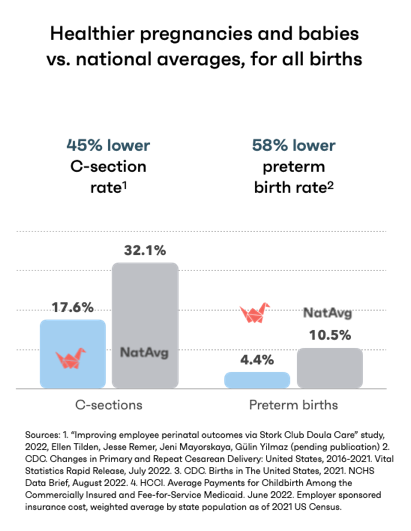 By reducing the rate of acute medical care, Stork Club projects that an employer-sponsored health plan can see 165% ROI with the program. We're thrilled to be able to address the maternity healthcare and equity crisis while helping employers reduce their overall maternity healthcare costs.

The only end-to-end reproductive and family-building care program
Bringing the Stork Club Birth Doula program to life is another step we're taking to deliver the best comprehensive reproductive and family-building care for all. Our members can experience continuity of care with leading experts supporting them through various stages of their life, with relevant backgrounds and identities. When employers add Stork Club Birth Doula care as part of their health plan, it's a seamless implementation process and can be complemented with other services such as fertility care and Rx, surrogacy and child adoption, unlimited virtual care at all stages of the family-building journey, travel reimbursement for reproductive care, menopause, and services for LGBTQ members.  

Learn more at https://joinstorkclub.com/demo
---
Each week Stork Club tackles industry insights on fertility, workplace inclusion & DEI initiatives.
Subscribe below to get access to these posts, and every post.
---